R-22 Refrigerant and Your Air Conditioner
April 25, 2019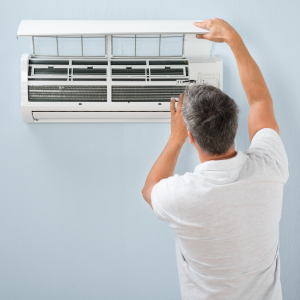 Homeowners in Pennsylvania are starting to get ready for summer. Before you dust off your A/C and turn it on, you need to check its age. If your system is 10 years or older, it likely uses R-22 refrigerant, which will be banned in the United States in 2020. Don't worry! Here's a breakdown of what you need to know and how you can make this transition as easy as possible.
Frequently Asked Questions about R-22 A/C Refrigerant:
What is R-22 A/C refrigerant?

R-22 refrigerant is a cooling solution used by most air conditioners manufactured in 2011 or earlier.
Why is it being banned?
The EPA has decided to ban further production and sale of R-22 refrigerant in the U.S. because of its ozone-depleting qualities and negative environmental impact.
How can I tell if my system uses R-22?

If your air conditioning system was made prior to 2011, it likely uses R-22. If you aren't sure, contact your local HVAC provider to inspect your A/C system.
How will this affect my current A/C system?
If your system uses R-22, you will be unable to purchase more when it is officially banned in 2020. Older air conditioning equipment can be converted to use different refrigerants, but this can be an expensive investment.
What can I do to prepare for the transition?

We recommend that homeowners with older systems that run on R-22 refrigerant upgrade to a new high-efficiency A/C system. Instead of converting an old unit, your money will go further by upgrading to a newer energy-efficient model. Benefits of upgrading include…
Longer life, fewer breakdowns
A new high-efficiency air conditioner will last longer than your old, outdated unit — and will be far less likely to break down on the hottest day of the year!
High-efficiency A/C systems use less energy to produce better comfort. This can help minimize your environmental impact and help you lower your utility bills up to 30%.
Convenient features, better comfort
High-efficiency central air and ductless mini-split air conditioning systems have valuable features that older models simply can't beat. Special features include whisper-quiet operation, whole-home or zoned room-by-room cooling, remote control, and compatibility with your programmable thermostat.
If you still have questions about R-22 refrigerant, your current A/C system, or high-efficiency A/C installations, contact Ferro Fuel Oil today!
---