Propane Fireplace Fueling for Pennsylvania and Delaware Homes
January 30, 2020
Imagine sitting in your living room after a long day, sipping a hot cup of tea, snow drifting slowly outside, fire crackling in the background. Propane log sets, or gas fireplace inserts, are the latest big thing in convenient home comfort. Plus, they add supplementary heat to your home with an impressive propane efficiency rating. If you need propane fueling for your propane log insert or your total home power solutions (such as heating, water heating, generators, stoves, pool heaters, space heaters, lawn care equipment, grills, and more) the experts at Ferro Fuel Oil have you covered. You can even order propane easily on our website with just a few clicks!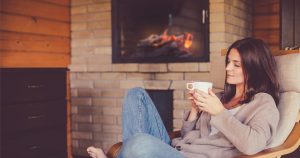 Propane Fireplace Benefits
Propane Fireplaces Provide Affordable Supplemental Heating
You may use your propane or heating oil furnace or boiler during the winter months, but what about the transitional seasons of autumn and spring? During this time, we get unpredictable drops and spikes in temperature, making it hard to decide when to turn on the heater. Instead of trying to plan the unplannable, get high-efficiency supplementary heat with the flip of a switch from your propane log set.
Propane Logs Are Easy to Power
Propane fuel is undoubtedly the most versatile fuel on the market. We provide customizable payment options for propane delivery to fit your preferences and budget. Plus, depending on how often you use your propane log set, one tank of propane fuel could last you all season!
Propane Logs Are Versatile
Heat isn't the only benefit to having a propane log fireplace in your Pennsylvania or Delaware home. You'll benefit from increased ambiance and home value. Plus, when you get in from a cold winter's day, you can lay your gloves and boots out near the fire for a quick-dry solution.
Affordable, Efficient, Fast Propane Deliveries on the East Coast
We offer affordable, efficient, fast propane deliveries for our valued customers. Whether you need a small cylinder filled for your fireplace or a full-sized residential tank of fuel to power your whole home, we have it all. Click here to place a propane delivery order today!
---