The Advantages of Heating Your Home with Oil
February 27, 2017
Heating your home with oil has many advantages when compared to other methods including electric heating and natural gas. Oil is a safe, effective and oftentimes less expensive way to heat your home during the long, cold winter months in Pennsylvania. If you aren't heating your home with oil, the following advantages may make you want to reconsider.
Safety
Home heating oil is non-explosive and inhaling it is not lethal. Unlike other heating options, heating oil gives off tell-tale signs including smoke and odors which can warn you of a malfunction before dangerous levels of carbon monoxide are present.
Environmentally Friendly
Home heating oil is more environmentally friendly than other heating methods, including natural gas, for many reasons:
No harmful methane emissions like with natural gas
Emissions aren't even regulated by the Federal Clean Air Act because oil burns so cleanly
No cancer-causing agents
Most oil includes biofuel which is a renewable blend of oil made from materials including soybeans, vegetables, and sunflowers
Greenhouse gas emissions have been reduced over the past four decades and have been cut by a third over that time period
Sulfur levels in heating oils have been dramatically reduced
Money Saving
The average costs of oil prices are about three to five times lower than electric heating. Because there are some other expenses involved, this translates to about a 30% savings on annual fuel bills.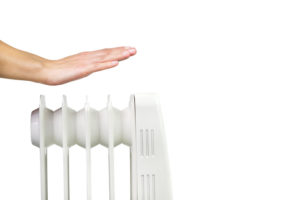 Efficiency
Oil heating systems often have efficiency ratings of up to 95% which means they provide more warmth for less fuel. Oil burns 400 degrees hotter than natural gas or electricity, making it the hottest flame of any heating oil. Because of that, home heating oil can warm your home quicker than other options.
Portable
Home heating oil is the best option for those who have homes that are typically inaccessible by other heating methods. Pipes can be used to direct oil from a containment unit into your home.
Home Heating Oil in Philadelphia
Ferro Fuel Oil is proud to provide home heating and A/C service to residents in Chester, Delaware and New Castle counties. Our heating oil service plans will ensure your system stays up and running to keep your family warm. We have been providing quality comfort in the Pennsylvania and Delaware areas since 1931 and offer service, repair, replacements and new installations for oil fired furnaces as well as gas and electric heating. Contact us today to learn more or to schedule an appointment.
---